Lampworking
If you are interested in purchasing my beads, you can find them at The Woodstock Trading Company in Cherry Hill, New Jersey, The Bead Cellar in Pennsauken, New Jersey, and at Blue Santa Beads in Media, Pennsylvania. You can buy my funky polymer clay pens in Baltimore, Maryland, at The Jurus Gallery . If you are interested in purchasing my mixed media, polymer clay and fused glass jewelry, you will find it at the The Jean-Jacques Gallery 7118 Germantown Avenue, Philadelphia, PA 19119 215.242.5440.
My book and media review articles have appeared in Lapidary Journal | Step by Step Beads | The Polyinformer | and Polymer Clay Central.
I have written articles for Polymer Cafe and PCPolyzine . I am also the editor of The Clay News, the newsletter of the Philadelphia Area Polymer Clay Guild as well as a past president.
My work appears in Polymer Clay Surface Design Recipes by Ellen Marshall. I recommend this book to anyone interested in polymer clay. You can order it by pressing HERE
My work also appears in The Art of Jewelry: Polymer Clay by Katherine Duncan Aimone (Lark Books, 2006). You can order this book by pressing HERE
I am a featured crafter on the third season of the HGTV show, That's Clever, demonstrating how to make a polymer clay Keepsake Memory book and a polymer clay Festive Pen. To check it out, press HERE
Keepsake Memory Book
Festive Pens




Thanks to my friend Christine, who dances under the name of Azhia, for telling me that HGTV was looking or crafters in the Philadelphia area. To view Azhia's gorgeous web site, press HERE.

I did some beading for Azhia and it was so much fun! I made the beaded anklets and beaded bodice strap on This costume
My Neighborhood
I live in South Philadelphia in a neighborhood called Bella Vista. I make my glass and clay creations in the basement workshop of my 160-year old house. I love this neighborhood. It's better than Disneyland and has a fascinating history. Someone is always shooting a T.V show or movie here. So many interesting people live here-lots of artists and creative people. It is not yet so gentrified that it's lost its funk. The best thing about the neighborhood is the food. My house is directly between Sarcone's Bakery and Isgro's Bakery . When they start to bake, the aromas waft through the neighborhood.
Every ethnic group that moves here opens up stores and restaurants. Besides Italians, we have lots of people from South East Asia and Mexicans have recently started to settle here. One of my favorite past times is to go into an ethnic grocery, buy stuff I have never seen before, and then go home and figure out what to do with it.
Of course, the jewel in the crown of Bella Vista is the Ninth Street Market. It has been operating for over 100 years. If you can't come in person, visit the web site.

My House
My house may be 160 years old, but it looks like a painted play house. Here are some pictures. Can you tell I love cartoons?
Upstairs Hallway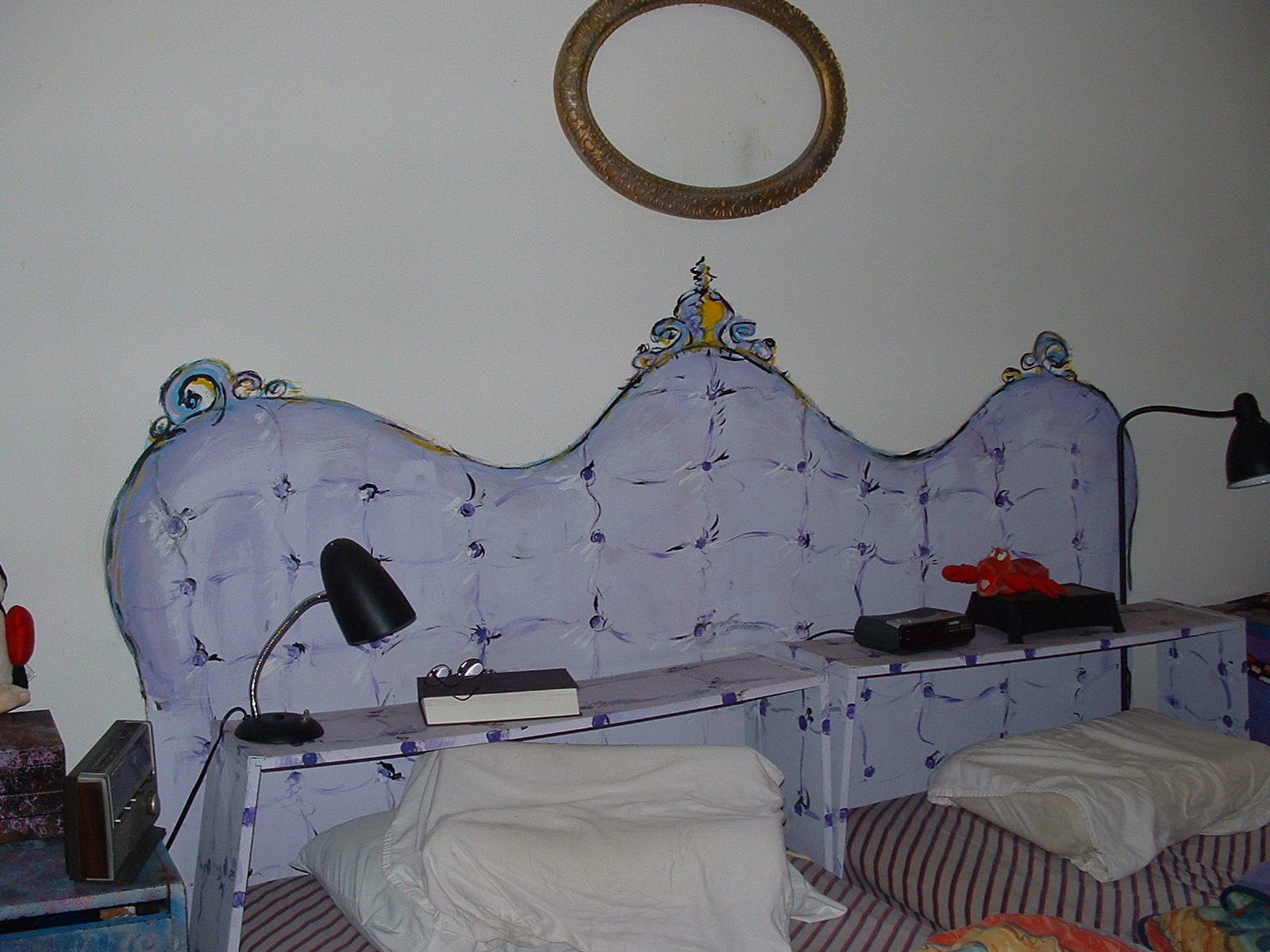 Painted Headboard


My Family
Maxwell, Me, Ken and Le Mutt
I am married to Ken Baskin who published a book called "CORPORATE DNA LEARNING FROM LIFE." Butterworth- Heinemann is the publisher and you can order it from AMAZON. Did I mention that it makes a lovely gift? Seriously, it has changed the way I look at the world. It has also been translated into Chinese. To read Ken's presentation, Social Ecosystems: A Complexity Context for Health Care Policy, press HERE.
I have a stepson named Maxwell Baskin who encouraged me to do this web site the old fashioned way without templates and fancy editors. Maxwell is my Unix and HTML Guru. Maxwell has had the sense and good fortune to move to another state and get himself a good job with benefits. I am so proud of him! To see more recent pictures of him, press HERE.
Max got married!
On April 22, 2006 to Leigh Warden in Elizabeth City, North Carolina! Congratulations to Max and Leigh!
MEN IN BALD! To see new pictures of Ken (AKA "The Bald One") and Maxwell, press HERE.
Wanna see some pictures of my mother? Of course you do! Press HERE and you won't regret it.
I do not have any children of my own but that is not because I do not like children. I love children. That is precisely why I decided not to have any.
My husband and I live with a cat named Plumpton Meowovich Baskin.
Plumpton
For all of you spinning your wheels, here is some good advice.
MY FAVORITE LINKS
Press HERE for information on the Philadelphia Area Polymer Clay Guild.
Press HERE to reach the website of State Representative Babette Josephs, 182nd District. She is a woman of integrity who cares about her constituents. She is also a friend. The only bad thing I can say about her is that she does not care for cats all that much. But she is always courteous to Plumpton. 'Nuff said.
Press HERE for some more of my favorite links.
Comments? Suggestions? Recipes for Clam Dip? Press HERE to contact me.
This page was last updated on March 8, 2008.